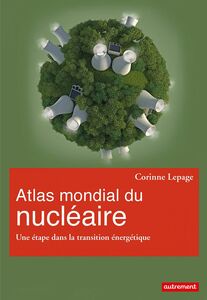 Atlas mondial du nucléaire. Une étape dans la transition énergétique
Corinne Lepage
Atlas numérique optimisé pour une lecture sur tablette. Le format EPUB3 permet de profiter de toutes les fonctionnalités de la lecture interactive : zoom HD sur les cartes, indexation, recherche in texte, navigation hypertextuelle, tables des matières interactives, textes en POP-UP, environnement ergonomique personnalisable. Plus de 120 cartes et infographies pour dresser le panorama mondial de l'industrie nucléaire, de son expansion et des stratégies choisies dans la perspective de la transition énergétique. - État des lieux de l'énergie nucléaire dans le monde. - Les grandes controverses : impact sanitaire et environnemental, gestion des déchets, opacité de l'information. - Les nouveaux défis face à la concurrence des énergies renouvelables. - États-Unis, Chine, Inde… : quelles sont les solutions des géants mondiaux ? Focus sur la France, cas unique au monde, qui a choisi le tout nucléaire. Cette synthèse inédite permettra à chacun de comprendre les arguments d'un débat de la plus haute importance : quel est l'avenir du nucléaire et de quelle manière s'accomplira la transition énergétique ?
Book details
Publisher

Language

Original language

Publication date

Page count

Maps by

Collection
About the author
Corinne Lepage
Corinne Lepage est avocate et femme politique. Elle fut Ministre de l'environnement, fondatrice et président du parti écologiste Cap 21 devenu CAP21/Le rassemblement citoyen et députée au Parlement européen. Parmi les plus récents de ses ouvrages : L'État nucléaire (Albin Michel, 2014), Les Mains propres : plaidoyer pour la société civile au pouvoir (Autrement, 2015).
Reviews
No reviews have been written for this book.