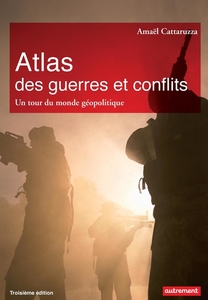 Atlas des guerres et des conflits. Un tour du monde géopolitique
Amaël Cattaruzza
Près de 100 cartes et infographies pour comprendre la complexité des guerres et conflits contemporains et futurs. - Armes, enjeux, acteurs : quelles formes prennent les guerres aujourd'hui ? - - Panorama des tensions et des conflits les plus récents : guerre en Syrie, conflit en Ukraine, réfugiés en Europe, terrorisme islamiste... - Rivalités idéologiques, raréfaction des terres et des ressources, tensions identitaires : quelles seront les guerres des prochaines décennies ? - Terrorisme, cyberattaques, tensions économiques, désastres écologiques, séparatisme, mouvements migratoires : les Etats du monde doivent faire face à des menaces et des situations nouvelles et complexes.
Book details
Publisher

Original text

Yes

Language

Original language

Publication date

Page count

Preface author

Maps by

Collection
About the author
Amaël Cattaruzza
Amaël Cattaruzza est maître de conférences aux écoles de Saint-Cyr Coëtquidan, détaché de l'université Paris-Sorbonne. Il est chercheur au Centre de recherches des écoles de Coëtquidan (CREC) et au laboratoire « Espace, Nature et Culture » (ENeC). Spécialiste de géopolitique, il a publié de nombreux articles sur le thème des conflits (sécessionnisme, post-conflit, zones grises), des frontières (identité, sécurité) et sur les Balkans contemporains. Il est l'auteur, entre autres, de Territoire et nationalisme au Monténégro (L'Harmattan, 2010) et, avec Pierre Sintès, de Géographie des conflits (Bréal, 2011) et de l'Atlas géopolitique des Balkans (Autrement, 2012).
Reviews
No reviews have been written for this book.