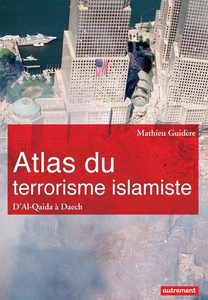 Près de 70 cartes et infographies pour mieux connaître le terrorisme islamiste et comprendre ses racines, sa logique et son mode opératoire. - Pourquoi et depuis quand les groupes terroristes actuels se réclament-ils de l'islam ? - Quels sont leurs modes d'action et d'organisation et comment se financent-ils ? - Outre Al-Qaida, l'État islamique, les talibans et Boko Haram, plusieurs autres organisations islamistes mènent des actions terroristes en Afrique, en Asie, au Moyen-Orient... - Les attaques subies par les pays occidentaux et leurs méthodes de lutte contre la radicalisation. Pour la première fois, un atlas propose une analyse claire et distanciée du terrorisme islamiste à l'échelle mondiale. L'auteur associe connaissance pointue du sujet et souci de clarification.
Book details
Publisher

Language

Original language

Publication date

Page count
About the author
Mathieu Guidère
Mathieu Guidère est agrégé d'arabe et professeur des universités. Il a été tour à tour professeur résident à Saint-Cyr (2003-2007), professeur de veille stratégique multilingue à l'université de Genève (2007-2011), avant d'être nommé professeur d'islamologie à l'université de Toulouse 2 (depuis 2011). Spécialiste du monde musulman et du terrorisme, il est expert auprès de plusieurs médias français et étrangers. Chez Autrement, il a publié Les nouveaux terroristes (2010), l'Atlas des pays arabes (2012) et Les cocus de la révolution (2013).
Reviews
No reviews have been written for this book.