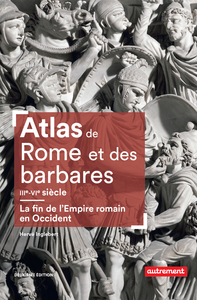 Pour la puissance impériale, les barbares sont des peuples inférieurs, à conquérir puis à intégrer.
• En Orient, le pouvoir romain doit défendre son territoire face à l'Empire perse sassanide et aux migrations des peuples germaniques, liées à l'arrivée des Huns après 370 • En Occident, la puissance déclinante de Rome ne peut plus espérer détruire les supergroupes barbares (Wisigoths et Vandales) installés dans l'Empire • L'essor du christianisme permet un rapprochement entre Germains et Romains, et la création de royaumes romano-barbares (Gaule, Hispanie, Afrique...) scelle définitivement le sort de l'Empire d'Occident après 460, tandis que l'Empire d'Orient perpétue l'idée impériale autour de Constantinople.
Plus de 100 cartes et infographies pour comprendre la chute de l'Empire romain d'Occident, l'un des éléments majeurs de la formation du monde européen ultérieur.
Book details
Publisher

Language

Original language

Publication date

Page count

Collection

Series
About the author
Hervé Inglebert
Hervé Inglebert est professeur d'histoire romaine à l'université Paris-Ouest Nanterre-La Défense et membre senior de l'Institut universitaire de France. Il codirige la collection « Nouvelle Clio » (PUF)._x000D_ Il a publié Les Romains chrétiens face à l'histoire de Rome. Histoire, christianisme et romanités en Occident dans l'Antiquité tardive (IIIe-Ve siècles), Études augustiniennes, 1996 ; Interpretatio Christiana. Les mutations des savoirs (cosmographie, géographie, ethnographie, histoire) dans l'Antiquité chrétienne (30-630 après J.-C.), Études augustiniennes, 2001 ; Histoire de la civilisation romaine, PUF, 2005.
Reviews
No reviews have been written for this book.