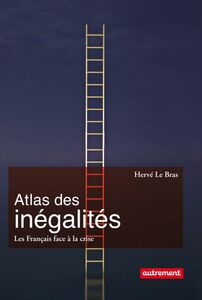 Atlas numérique optimisé pour une lecture sur tablette.  Le format EPUB3 permet de profiter de toutes les fonctionnalités de la lecture interactive : zoom HD sur les cartes, indexation, recherche in texte, navigation hypertextuelle, tables des matières interactives, textes en POP-UP, environnement ergonomique personnalisable. Plus de 120 cartes et infographies pour dresser l'état des inégalités en France. - Densité démographique, mortalité, fécondité : un portrait de la population française. - Les territoires de l'inégalité : chômage, éducation, revenus. - Les facteurs déterminants de l'exclusion. - La géographie du vote : l'expression politique d'un désarroi. Les cartes inédites soulignent crûment les différences de patrimoine, d'éducation, de réseau de relations, de sexe, de mentalité, qui fabriquent l'inégalité des chances et des revenus. Un ouvrage essentiel pour comprendre la France contemporaine et envisager les moyens de son redressement.
Book details
Publisher

Language

Original language

Publication date

Page count

Maps by

Collection
About the author
Hervé Le Bras
Démographe et historien, directeur de recherches émérite à l'INED, Hervé Le Bras est aussi directeur d'étude à l'EHESS. Il est l'auteur de nombreux ouvrages dont : L'invention de la France (avec Emmanuel Todd), Hachette, 1981 ; Les Trois France, Odile Jacob-Le Seuil, 1985 (rééd. Opus, 1995) ; Les limites de la planète : mythes de la nature et de la population, Flammarion, 1994 ; Les 4 mystères de la population française, Odile Jacob, 2007 ; The Nature of Population, Princeton University Press, 2008 ; Le Retour de la race – Contre les «statistiques ethniques » (collectif),Éditions de l'Aube, 2009 ; L'invention de la France (avec Emmanuel Todd), Éditions Gallimard, 2012 ; Le mystère français (avec Emmanuel Todd), Le Seuil, coll. « La République des idées », 2013.
Reviews
No reviews have been written for this book.