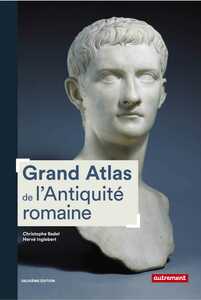 Depuis sa création jusqu'à la chute de Rome, cet atlas retrace, au fil des cartes, l'histoire de l'empire romain et montre :
• comment les Romains ont contrôlé un territoire presque aussi vaste que le monde connu d'eux ; • comment ils ont réussi à gérer cet empire durant plusieurs siècles, par des politiques administratives et territoriales originales ; • comment la chute de Rome face aux barbares, longtemps perçue comme une rupture et la conséquence d'une période de décadence, se révèle en réalité le fruit d'un long et complexe processus militaire, politique et social.
Cette nouvelle édition s'intègre dans une histoire des empires en plein renouvellement. Grâce à plus de 200 cartes, repères chronologiques et tableaux dynastiques, cet atlas est un outil indispensable pour les étudiants et une véritable référence pour les amateurs d'histoire.
Book details
Publisher

Language

Original language

Publication date

Page count

Collection

Series
About the author
Christophe Badel
professeur d'histoire romaine à l'université Rennes II, a été vice-président du jury du CAPES d'histoiregéographie de 2006 à 2012. Il est l'auteur de Lire l'Antiquité (La Documentation française, 2009) et Les Stratégies familiales dans l'Antiquité tardive (avec C. Settipani, De Boccard, 2012).
Hervé Inglebert
Hervé Inglebert est professeur d'histoire romaine à l'université Paris-Ouest Nanterre-La Défense et membre senior de l'Institut universitaire de France. Il codirige la collection « Nouvelle Clio » (PUF)._x000D_ Il a publié Les Romains chrétiens face à l'histoire de Rome. Histoire, christianisme et romanités en Occident dans l'Antiquité tardive (IIIe-Ve siècles), Études augustiniennes, 1996 ; Interpretatio Christiana. Les mutations des savoirs (cosmographie, géographie, ethnographie, histoire) dans l'Antiquité chrétienne (30-630 après J.-C.), Études augustiniennes, 2001 ; Histoire de la civilisation romaine, PUF, 2005.
Reviews
No reviews have been written for this book.